We work so hard, and our financial struggles seem to be getting worst, not better. Here is one major solution to end our financial struggles…
This How We Can Overcome Our Financial Struggles Become
BLACK INVESTORS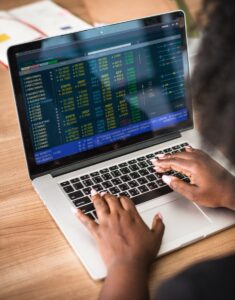 But, first, we must embrace this TRUTH. 
We Don't Have to Struggle Financially.
Say it with me "I Don't Have To Struggle Financially."
Now that we got that out the way let's get into the solution of ending our financial struggles. If you just want the answer, stroll down to – The 3 TRUTHS THAT WILL END OUR FINANCIAL STRUGGLES.
But, before we jump right into it, did you know?  
The Samuel Dubois Cook Center on Social Equity at Duke University notes that "the median Black household holds just 10% of the wealth of the median white household.
Black Americans are less likely to invest than white Americans.
By 2053 the median net worth for black families will be $0 if things do not change. 
And YES, the truth remains. 
Dear Black People, We Don't Have to Struggle Financially. 
Yes, I know you are looking for the solution, but before we get into the solution. Let's understand why the racial wealth gap exists; I will be quick.
So why does the wealth gap persist? 
Slavery, racism, and oppression have hampered many black families' ability to build generational wealth, stealing financial stability and joy for many of us. 
According to Brookings Institution, there is "no single, simple explanation for the racial wealth gap," confirms the Brookings Institution. 
Frankly, that is a LIE. There is one single explanation for the wealth gap "RACISM." Racism has created an oppressive system that has prevented black families from building generational wealth. Our ancestors survived slavery and jim crow, and we will survive the new jim crow and build generational wealth.
Not only will we survive, but we will also thrive. Let's Go…
Are You Tired of Struggling Financially? 
BLACK INVESTORS CAN END OUR FINANCIAL STRUGGLES 

The 3 TRUTHS THAT WILL END OUR
FINANCIAL STRUGGLES 
1 – You will never be able to budget your way out of debt and into wealth. 
What? So, I don't need a budget? You need a financial plan which includes ensuring your money goes to more than bills. To build generational wealth, we must make our money work for us instead of working for our money.
You can stick with your budget, pay all your bills, and still be broke and struggling. So, "only" budgeting will not get you where you want to be. 
2- Education Kills Fear
Educating yourself about the different ways to invest your money will help kill the fear of not knowing and the journey of something new. 
We must educate ourselves on how to make our money work for us. What do you mean by "money work for us"? 
I am glad you asked; making your money work for you means your money grows with your decisions. Investing your money in stocks, real estate, art, cryptocurrency, and sports collection can help make your money grow, and that will make your money work for you.
Educating yourself about the different ways to invest your money will help kill the fear of not knowing. 
If you want to learn how to invest in the stock market, register for our free seminars CLICK HERE 
3- Long-Term Investing Can Make You a Millionaire 
Yes, you read that right, and it doesn't matter how little or how much money you have. Investing consistently over time can help you reach millionaire status.
I know that is not everyone's goal, but our goal should always be to leave generational wealth and the resources and knowledge to help it grow. So, whether you leave $500, $1000, $10,000, $500,000, or $3,000,000, we must teach the next generations how to grow the money we leave them and build a family trust. 
Educate yourself about long-term investing, stocks, mutual funds, ETFs, index funds, and even cryptocurrency so that you can build a diverse portfolio made for generational wealth. 
It's is not easy but, it is so worth it. 
Financial Joy School is on a mission to help and inspire black families to become long-term investors, and it is FREE. 
Signup NOW and join Black Investors.
SHARE THIS POST CLICK THE CIRCLE TO THE RIGHT OR BELOW